Deploying as a Contractor
Since I am leaving for Iraq in less than 60 days, I thought I'd talk about what it takes for a contractor to deploy. In a lot of ways it's like a SRP for soldiers, plus some added benefits and challenges. First of all, since I am not in the military I need a Visa for the country I am flying into before I stay in Iraq. In this case I need a Kuwaiti visa, so off my passport goes to the Kuwaiti embassy in D.C. Then I need to draw any needed gear from CIF (Central Issuance Facility) on whatever post I am working on. Usually we get brand new stuff straight out of the plastic. In one way it's ironic that when I was a soldier I got the oldest rattiest TA-50 known to man, but now as a contractor I get brand new stuff. Definitely a lesson in there about priorities of some people in the military hierarchy. I get a full draw of equipment, sleeping bag, Rucksack, JLIST suits, E-Tool, you name it they give it to us, and we also get a few extras. The best or worst part depending on your feelings about military spending are I get to keep a lot of this stuff. I've been to Iraq twice and I own 3 rucksacks, a full sleeping bag kit, an e-tool, and some other things I'd rather not mention on the net. (Let's just say I can see in the dark, I tried to return the item, but was told it was to be kept in case I went back) I get everything except for Body Armor which I get from my company and then a set of military issue when I get to Kuwait, it looks a little something like this.
Anyway back to predeployment, I then get to receive a bunch of vaccinations, that's right I keep a shot record just like a military person does. Hep A, Hep B, Smallpox, Anthrax (when they were giving it) you name it, I get it. I go to an SRP just like the soldiers do, I get a power of attorney, I can make a will, I get shot and bloodwork, and then I get to begin packing my gear. We don't wear uniforms in Iraq, we wear civilian clothes, so choosing th right wardrobe is quite a task. Do I pack music group tshirts and jeans, or do I go with straight white cotton T's and khakis. Well here are two examples of the way I dress in Iraq. Here I am in one of Saddam's palace in Tikrit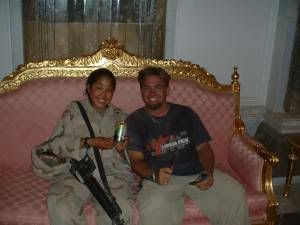 and here I am pimping with two of my friends in the Kuwaiti desert before our convoy north into Iraq.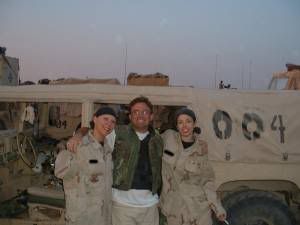 So I start packing and then I ask my company for a cash advance, mostly this is used to buy things that are desperately needed in Iraq such as laptops, MP3 players and anything else to fight off the boredom that comes with living on a FOB. So by now my passport has returned with the Kuwaiti visa in it and it's time to leave.
Say goodbye to my wife at the airport and then begin the 24 hour saga of trying to get from the U.s. to Kuwait. I board the plane and I wake up at Camp wolf or Camp wolverine or whatever the hell mammalian name they are calling it these days. I get picked up by my company's site lead in Kuwait, and taken to a luxury apartment the company rents until I can catch a C-130 from the APOD into Baghdad or Kirkuk or Balad or wherever. The apartment looks like this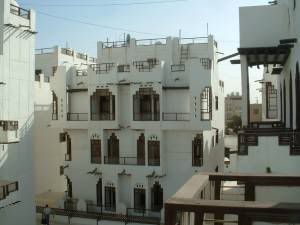 So now I get my promask from Camp Doha, pick up any last minute hajivision movies in town and then it's time to get onto that steel bird to take me to freakytown for 3 months. And that's how a contractor deploys. As I get closer to my deployment date, I'll tell you about what I do once I get to the FOB.